Ive been meaning to begin cataloging the collection of prints I have from various exhibitions, events and artists. Well, to start things off, here's my favourite piece : Shepard Fairey's Obey With Caution .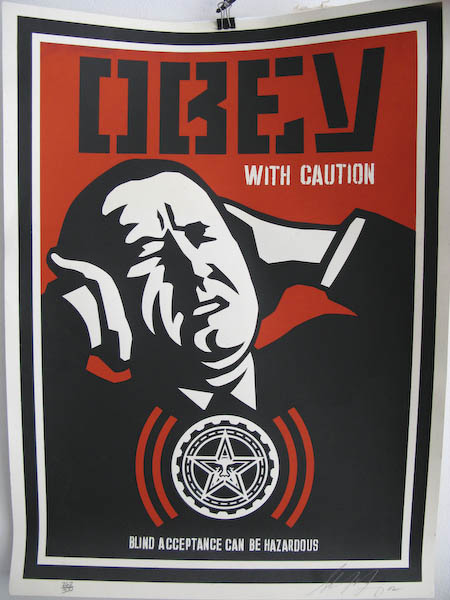 If you are unfamiliar with Fairey or his work, he started life as a skater street artist, and has made a career out of subversiveness.
I really like the boldness of the lines, the simplicity of shape and colour, and the power with which his communications resonate beause of these design choices.
As you can see from this picture, this print is numbered 262 of a limited run of 300 and is signed by Fairey. Given the number printed, I should probably take a bit more care with it, but I prefer to just hang it off its bulldog clip and enjoy

Can't remeber exactly which year I bought it, but I do remember it was at a Flash conference in Sydney – it must have been around 2000 or 2001… Anyway, enjoy!
Update: The print is signed 2002, and was bought at the iDN Fresh Conference.